March 21, 2022
UMR Releases Annual NIH Economic Impact Report:
Every $1 Invested in NIH Research Drives $2.60 of New Local Economic Activity
WASHINGTON, DC — March 21, 2022 — According to a report released today by United for Medical Research (UMR), research funding from the National Institutes of Health (NIH) supported 552,444 jobs and generated $94.18 billion in economic activity last year — or $2.60 of economic activity for every $1 of research funding. The report, NIH's Role in Sustaining the U.S. Economy, looks at the national and state-level impact of NIH research funding.
"As this report shows, before a single discovery is even made, NIH research funding has a positive economic impact on people and communities across the U.S.," said UMR President Chris Austin. "While the role that the NIH plays in saving and improving lives is well known, fewer people are aware of its critical impact on our economy – from supporting jobs and economic activity, as this report illustrates, to fueling the fundamental research and discovery that keeps America at the forefront of biomedical innovation."
More than 80 percent of the NIH budget is awarded in grants each year, directly and indirectly supporting jobs. The income generated by these jobs, as well as by the purchase of research-related equipment, services and materials, when cycled through the economy, produces new economic activity. In Fiscal Year 2021, $35.73 billion was awarded to researchers in the 50 U.S. states and the District of Columbia.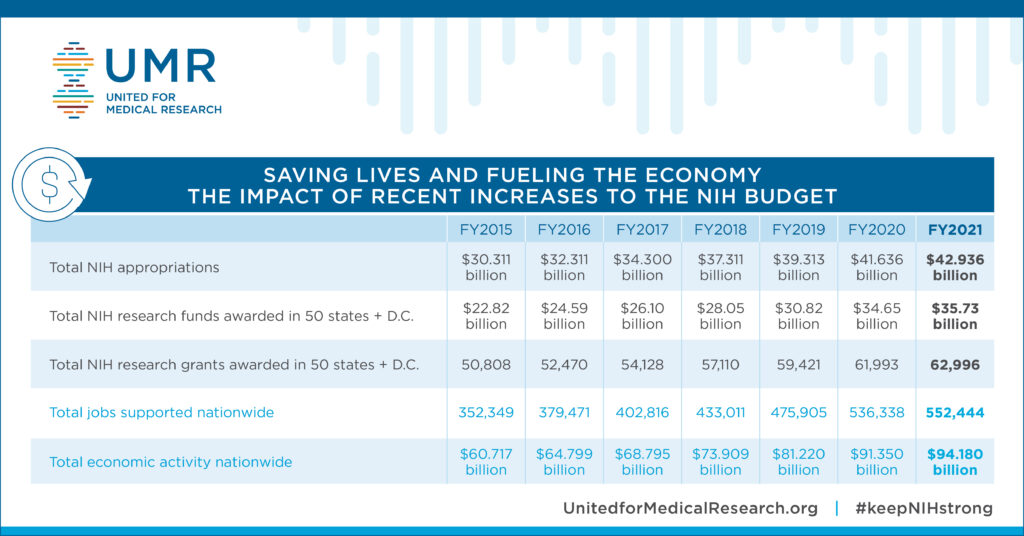 The states that saw the largest percent increase in awards in 2021 were: Delaware, Mississippi, North Dakota, Alaska and Arkansas. In 26 states, at least 5,000 jobs were supported by NIH research and 31 states saw at least $500 million in new economic activity as a result. In 22 states, new economic activity exceeded $1 billion.
Since 2016, Congress has provided back-to-back increases to the NIH budget. Compared to FY15, increases to the NIH budget in FY21 resulted in $12.91 billion more grant funding to researchers, $33.46 billion more economic activity and 200,095 more jobs. The steady gains in the NIH budget are helping to restore the agency's purchasing power after more than a decade of stagnant funding. However, factoring in inflation, NIH appropriations remain below their 2003 peak.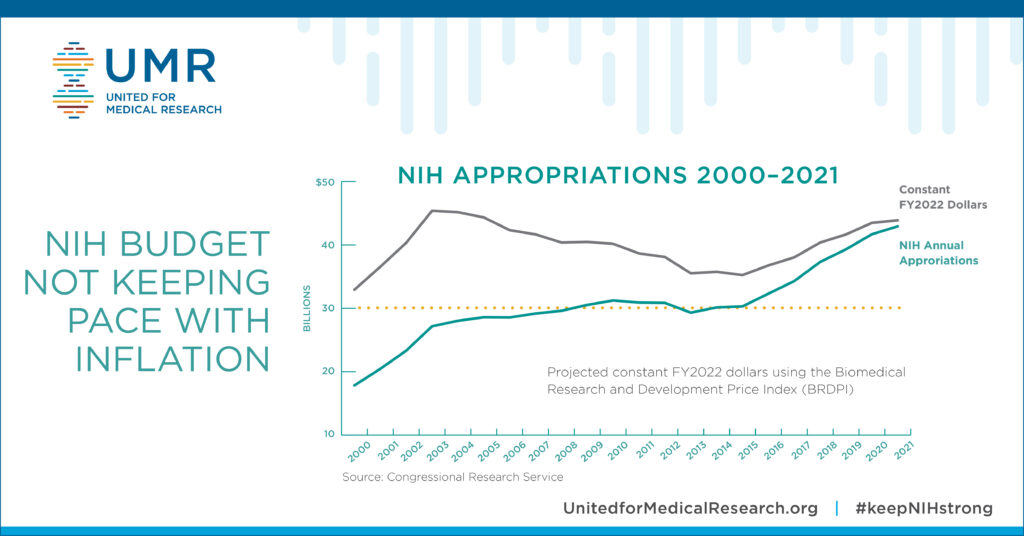 "We are tremendously grateful to the medical research champions in the U.S. House and Senate who have spearheaded the recent increases in funding for the NIH. They are advancing cures, helping communities nationwide to thrive and maintaining America's leadership in a critical field," said Austin.
Access UMR's digital press kit for the report here. Press kit includes report, graphics and state-specific lists of FY21 NIH recipients/locations.
UMR is a coalition of leading research institutions, patient and health advocates and private industry seeking steady and sustainable increases in funding for the National Institutes of Health in order to save and improve lives, advance innovation and fuel the economy.