March 21, 2023
New Report: Economic Impact of NIH Research Funding
Every $1 Invested Yields $2.64 in New Economic Activity
WASHINGTON, DC — March 21, 2023 — Research funding from the National Institutes of Health (NIH) supported 568,585 jobs and generated $96.84 billion in new economic activity nationwide last year — or $2.64 of economic activity for every $1 of research funding, according to a report from United for Medical Research (UMR). NIH's Role in Sustaining the U.S. Economy, published annually by UMR, assesses the economic impact of NIH research funding in all 50 states and the District of Columbia.
"The NIH sits at the center of the biomedical innovation ecosystem in the U.S., fueling innovation that keeps us healthy and globally competitive," said UMR President Chris Austin. "As this report highlights, NIH research funding also has an immediate impact on our local and national economies by supporting jobs and economic activity. Every dollar invested in the NIH has an exponential effect."
More than 80 percent of the NIH budget is awarded in grants each year. In Fiscal Year 2022, $36.68 billion was awarded to researchers nationwide. As NIH funding is awarded to researchers in individual states, that funding supports employment and the purchase of research-related goods, services and materials. The income generated from these jobs and purchases cycles through the economy to produce new economic activity.
Thanks to bipartisan medical research champions in Congress, the NIH budget has seen strong increases each year since 2016, putting the agency on a sustainable growth path after years of flat funding. Compared to FY2015, increases to the NIH budget in FY2022 resulted in $13.86 billion more grant funding to researchers, $36.13 billion more economic activity and 216,236 more jobs.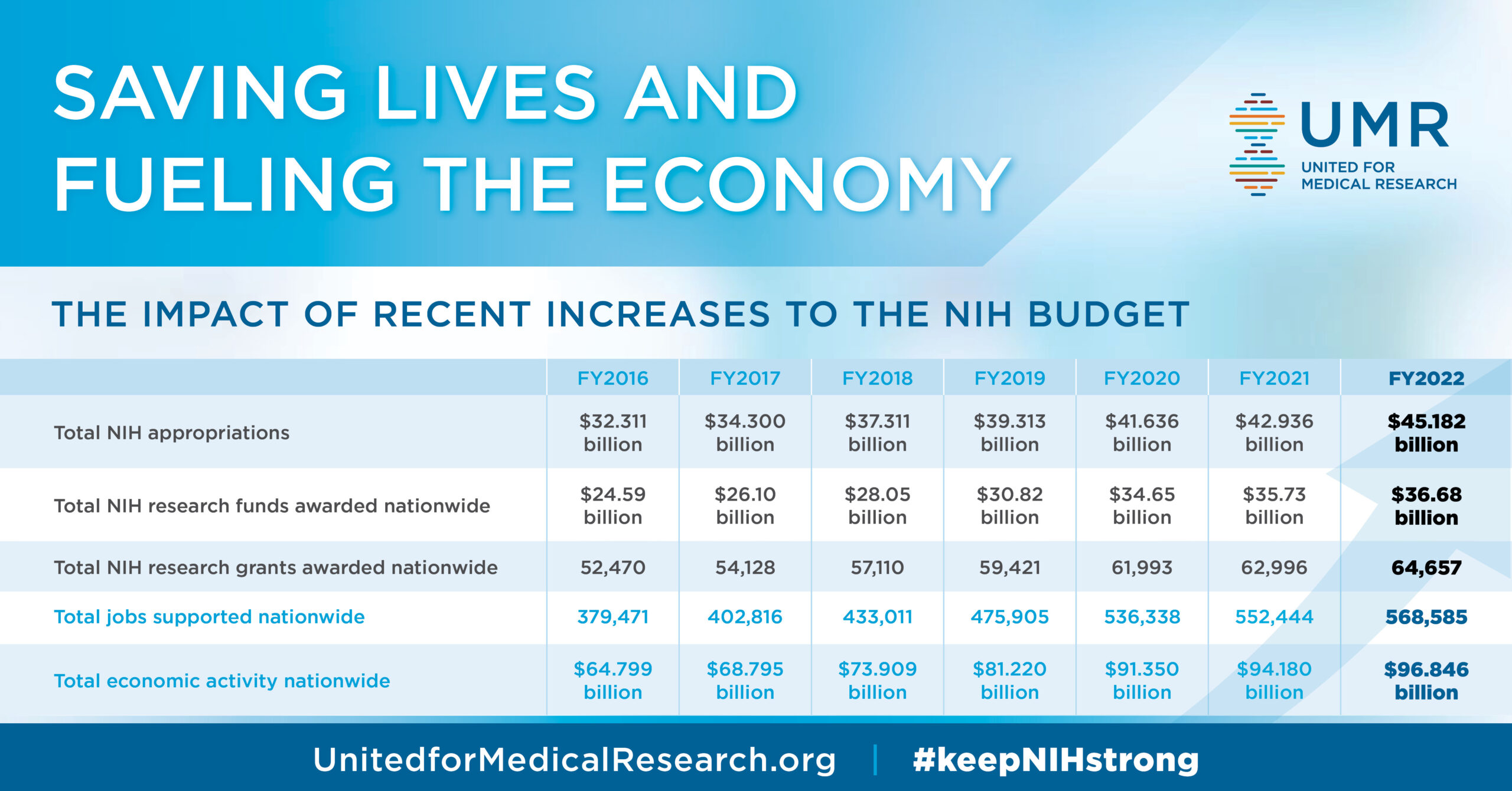 "Medical research is about saving and improving lives, and when you couple that with the proven economic return on investment of NIH research funding to every U.S. state, strong funding for the National Institutes of Health should be a top priority for every member of Congress," Austin said. "We look forward to working with the 118th Congress to ensure that funding for medical research remains a top priority."
Access Economic Report and State Toolkit here.
UMR is a coalition of leading research institutions, patient and health advocates and private industry seeking strong and sustainable increases in funding for the National Institutes of Health in order to save and improve lives, advance innovation and fuel the economy.